Boys Youth Sports

Delaware County Sports.com |
home


Please donít curse that player down there,

He is my son you see.

To you heís Just a player to watch,

But, He means the world to me.

I did not raise my son dear fan,

For you to call him names,

He may not be a superstar,

But, He doesn't need your blame.

This game belongs to them you see,

Youíre really just a guest,

They do not need a fan like you,

They need the very best.

If you have nothing nice to say,

Please leave them all alone.

And If you have no manners,

Why donít you stay at home?

So please, donít curse those boys down there,

Each oneís his parentís son.

And win or lose or tie, you see,

To Us, theyíre all Number ONE!!!!!








St. Laurence Football




Our Lady of Fatima v St. Joe's

Homecoming









Northley Middle School 110 lb v Ridley


St. George's junior varsity team played Notre Dame de Lourdes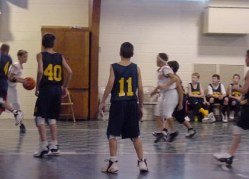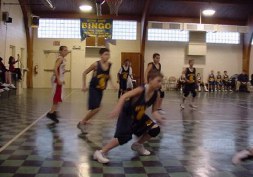 Drexel Hill Middle School Drexel Hill Middle School 7th & 8th Grade Football team v. Ridley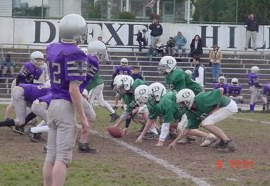 Drexel Hill's Defensive efforts just were not enough
today to shut down Ridley's Offense...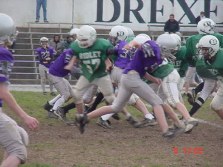 Fake Jet Sweep Right by Nicolino, Terenick on
a keeper left for a gain on the play...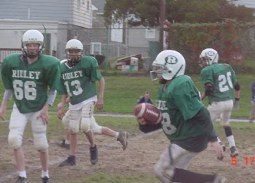 Both Teams graduating talented groups of 8th graders
which we will be following within the next
few years at the next level...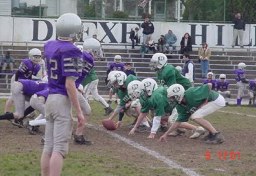 (Game was sponsored by D.T. Tutorial Services)
Updated November 2,2002 Chichester Crusaders cruised to a victory in the first round of the Delco League Junior Division playoffs. The final score Chi 40 - Swarthmore 8. Chichester had a strong running game behind the power running of Keon #41 whoraced for three touchdowns. Mike Shaugnessy sealed it with an interception in the final minutes to secure the victory. Swarthmorewood had a strong game from #50 who lined up as a tight end and had a 50 yard run after a flair out for the Woods only score. Chi is waiting for the winner of Brookhaven vs Chester to determine who will play next Saturday at the Crusaders home field (Chichester Middle School) which is located at Chichester Ave and Meetinghouse Road in Upper Chi . Time TBA. Chichester has not faced Brookhaven (8-0) but did defeat Chester during the regular season( game #7.) Joe Simons
Glenolden v. Raiders
Glenolden needed to beat the Raiders to keep their hopes of a playoff spot alive..

As the Raiders line up in a Wing T, Glenolden prepares to send in their linebackers..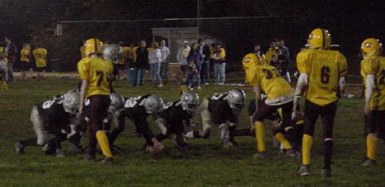 Glenolden successfully holds the line...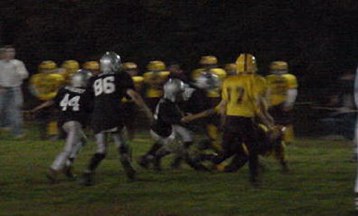 With this win, Glenolden now has the opportunity to face the
Clifton Rams in the first round of the Delco League Playoffs......
10-26-02 Chichester defeated Springfield today 14-0 but they still need help to make the playoffs. Defesively ,tackle Matt Carey had a huge game with one sack and was in the backfield all day. Offensively Chi ran the ball consistently (2 rushing TD's) behind the outstanding blocking of George D'Anunnzio. An outstanding job of mixing up the plays by the coaching staff and head coach Paul Murtaugh. Chi can only hope for help from Folcroft and Aston to make the playoffs. Joe Simons
Chris Nolan NG/T busted through the Ridley Park O-Line
to officially introduce himself to their backfield....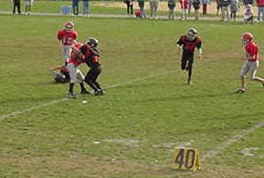 Clifton's defense is averaging 30 ypg led by the efforts of Marshall Trombetti, Chris DiBello, Chris Nolan, Luke Coleman, Tim Brown Robert Kavchuk, TJ Reilly, Mike Hartsough, Mike DiRomualdo Adam Demspey and David Capriotti.....
With the 21-0 victory over Ridley Park,
Clifton's record improved to 5-0...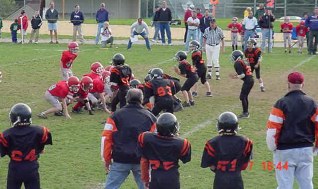 Ridley Park's Pat Mills, Pat Zimmerman, Mike Greco and Alex
Nicolino trying to buy some time for QB John Harshaw
to counter to Sean Kane.....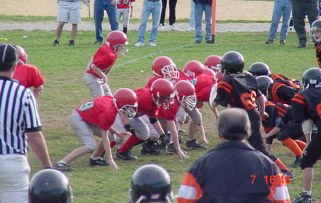 Ram's QB Chris Green behind the line of Matt Locher, Bill Tobin, Joe Kirkwood, JJ Kelner, Chris Nolan & Mike Houston hands off on a dive right to Marshall Trombetti who ran it in 45 yds for his 3rd touchdown of the day....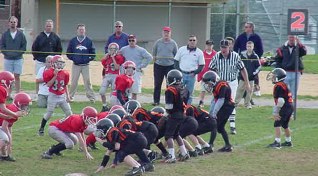 Drexel Hill Raiders Pee Wee Team is off to a good start...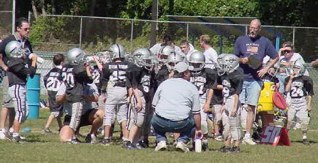 Clifton faired well in a pre-season match up against Downingtown...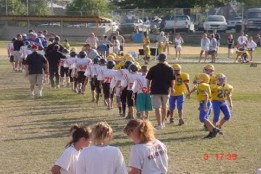 Will St. Bernie's or St. Laurence 7th & 8th grade Varsity
meet in the Parade of Champions????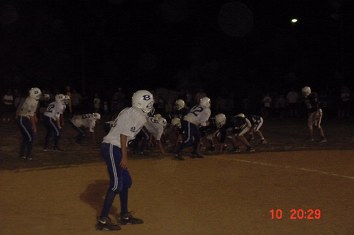 Joe Rawlings captain, and Bill Vogt trying to open up a few
holes to get that 6 on the board.....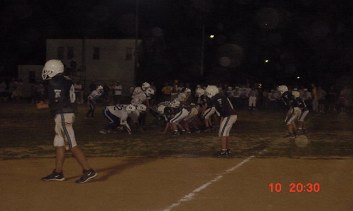 Sean Fitzgerald and Mike Tomasco hoping to move the ball into the endzone after a 26 yard gain on the last play.... Grant Kernahan pitches to Domenic DeSantis #31 who lined up in the Wing Position preparing to streak down the field for a 41 yd td on a power right play .....
These are the stars of the future......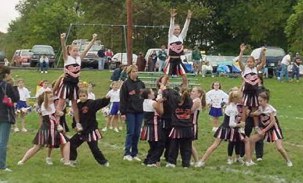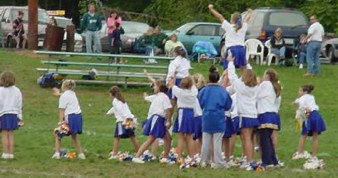 Aston Bandit's QB Ryan Laughlin passes off to O'Hara
on the carry to pick up the first down....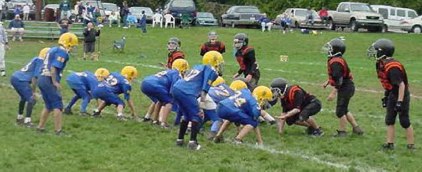 Mike Hartsough's Rams suffered their first loss of the season to
the Bandits, 14-0....