Girls Youth Sports









Team Picture:

First row: Tony Zambino,

Caitlin McConlogue, Courtney Najmola, Stephanie Kealey,

Butch Najmola;

Second Row: Jen Egee, Rebecca Ozaluk, Marissa Most, Sophia Sokolovich,

Alexis Zambino;




RIDLEY JR ABA 12 GIRLS FINISH TOURNAMENT SEASON WITH A BANG

The Ridley Jr ABA 12 year old girls tournament team won the Whitemarsh and Aston Tournament Championships to cap off a phenomenal season of basketball. The team finished with a 23-5 tournament record and 39-6 overall record including Del Val league play.

In the Aston tournament championship game, Ridley defeated Paoli 27-18. Alexis Zambino led the team in scoring with 13 points including 2 three's in the 3rd quarter erasing an early Paoli lead. Paoli had defeated Aston on a last second shot while Ridley avenged an earlier loss to Highland Park to advance. Zambino and Marissa Most were named to the all tournament team.

In the Whitemarsh tournament, the team went 4-0 including impressive wins over Upper Dublin, Aston, Whitpain and Audobon in the championship game. Marissa Most was named tournament MVP scoring 36 points. Alexis Zambino poured in 26 including 15 in the Whitpain showdown.

The team competed in six tournaments, winning three (Eddsytone, Whitemarsh & Aston), finishing second in 2 (Brookhaven and Ridley) and placing 3rd (Crestwood Mountain Top) in the other. Team defense was the character of this squad allowing an average of only 18 points per game given up. As for the Ridley Jr ABA scoring, Marissa Most scored 159 points at the center position while Alexis Zambino had 137 points from the perimeter during the season to provide a nice 1-2 scoring punch. Sophia Sokolovich handled the point guard duties distributing the ball masterfully for the team and scored 75 points of her own. Jen Egee scored 90 points, Rebecca Ozulak 79, Cait McConlogue 59, and Courtney Najmola 60. Stephanie Kealey added 22 as a part time player.

The team was comprised of the following:

Jennifer Egee, Caitlin McConlogue, Marissa Most, Courtney Najmola, Rebecca Ozaluk, Sophia Sokolovich, Alexis Zambino, Stephanie Kealey. Shakeah Jenkins, Kelsy Yori and Carly Hazinsky were also part-time members of the team.

Youth League Coaches/Directors-
The Hoop Group is putting on the area's top High School basketball event of the year next Saturday, Feb. 14 @ Villanova. Featuring 5 of Philadelphia's top teams against the best from NJ, NY, MD and MA, this should be some serious hoop action with all games televised on CN8!! http://www.hoopgroup.com/cn8classic.htm The Pocono Invitational Basketball Camps will be sponsoring an 8-minute youth basketball game at halftime of each of these games and still have a few time slots available. If your organization would be interested in bringing 2 teams of boys players, ages 8-14, let me know immediately. You will receive free admission for coaches and players, 5 free adult tickets and 10 additional child tickets as well as a coupon for $2 off any regular ticket (the coupon can be photocopied as many times as you'd like). If the youth game does not work for you but the discount does, feel free to use the attached coupon for anyone associated with your group. Best of luck the rest of the season and we look forward to seeing you at Villanova. Michael Wolf Director - Pocono Invitational Basketball Camp 732-502-2255 office 732-502-9636 fax www.HOOPGROUP.com The Hoop Group 1930 Heck Ave, Bldg. 3 Neptune, NJ 07753

First Row: Gigi Jones, Sammy Zang, Kaitlyn Shields, Brooke Berger, Alexis Zambino, Tony Zambino; Second Row : Larry Gloner, Stephanie Potter, Kerri Humes, Marissa Most, Bridget Borgese,
Gina McGlaughlin. Missing from Photo due to vacation: Monica Van Horn, Katie Bonnell

Londergan and Kerrigan have them singing the Blues
In the semifinals of the NPAA Girls 9-11 y/o tournament the Green Machine defeat's Lou's Blues 31-18 to move to the Finals, scheduled for Tues. 3/18/03. The game will be played at 6.30pm at the Strath Haven Middle School. Lulu Londergan lead the Machine with 10 points and 6 assist. Katy Kerrigan (8 points) , Natalie Burman (7 pt.) and Stacy Bolgunas (6 pt's) finished out the scoring for the Machine. Rebecca Marion, Alexa Testa, Kelli Odell, Erica Wand and Emily Broach all played major part's in the Victory. Lindsey Walker's 11 points lead the way for the Blue's who were coached by Lou DiDomenico. The Machine need's to beat Chuck Miller's bunch twice to capture the Championship. Miller's Bunch finished the season 9-1 with their only loss coming to the Green Machine. The last time these team's met the Green Machine came back from an 18-4 half-time deficit only to fall a little short losing at 23-20.
This is Miller's team 2nd straight trip to the finals.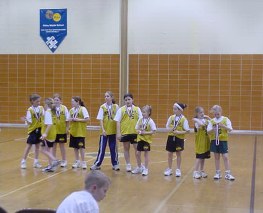 Aston 9's defeated HPKAA in Overtime play 23-20, winning the game on foul shots.....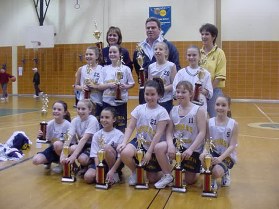 12 Year Old Championship Joy has no trouble on the foul line, making these free throws helped the Lady Clippers to a victory....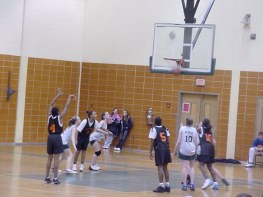 With everyone underneath, Kim comes up big with a rebound and an outlet to Kristy for 2..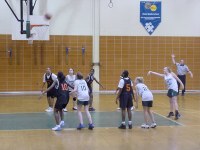 Nikki nails both free throws, but Chester came out victorious in a 32-27 Championship game.
Feburary 2003 Eddystone 10 year old girls defeat Paoli in the Eddystone Tournament - The game was intense and both teams put forth extraordinary effort ~ Eddystone sends into overtime with a 20 foot off balance shot at the buzzer to continue the game. Eddystone scores winning basket at the buzzer in OT to win by one point....
Notre Dame de Lourdes vs. Our Lady of Perpetual Help Krista DiRomualdo #10, the county's most highly recruited 8th grader, once again swats the ball away, as Liz Conrad who gave an outstanding effort today, will feed the ball to Lisa Clark...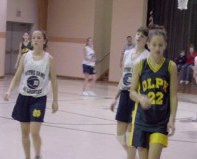 Lisa Clark #13 ~ put on a show today that garnered OLPH a win over Notre Dame...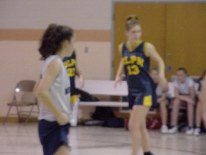 After an 11-2 record, St. Kevin's 5th & 6th grade JV team won the CYO Region 13-15 Championship. Members of the team are : Alicia McMahon, Diana Graham, Emily Finnegan, Maggie Lynn, Brittany, Hee, Chelsea Mullin, Kimberly Link, Susan Caramanico, Jenell McFadden, Vicky Sculli. The team was coached by Dave Prendergast.
ST MADELINES-ST ROSE COMPLETES SWEEP OF REGION
The 5th and 6th Grade St. Madelines-St. Rose girls basketball team won the region 14 championship game over Fatima to give St Madelines its 4th championship of the season. The boys JV and Varsity also won coupled with the Girls Varsity win over OLPH. The girls JV game was a thriller played at Prendie with St Madelines-St Rose winning 19-17. Alexis Zambino's free throw with a minute remaining broke a 17-17 tie. Marissa Most also hit a free throw late to increase the lead to 2 and finished with 5 points. Brooke Berger led all scorers with 10 points. Katie Bonnell led Fatima with 6 points.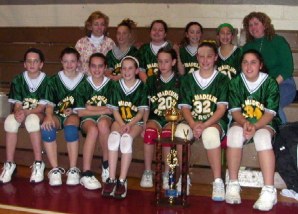 Front Row: Jennifer Egee, Kelsey Garraty, Maura Flynn, Kate McConlogue, Margaret Kerins, Marissa Most, Kate Valerio, Back Row: Sue Magro, Brooke Berger, Sophia Sokolovich, Courtney Fox, Alexis Zambino, Ellen Fox Missing from Picture: Shawn Manning
During the Championship Game at Springfield's summer league, Chester accomplished what they set out to do... Win. Congrats to all participants!!!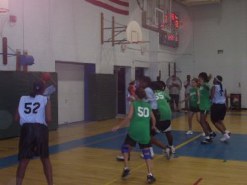 The St. Laurence girls basketball team came in 6th in the Archdiocese. The girls lost in the semi-finals to St. Bedes of Holland PA the score was 30- 24. A big thanks go out to Will Colgan adn Kevin Hunt for a great season!
The St. Joseph's (Collingdale) junior varsity girls basketball team recently won the Mike Shaw Classic Tournament at Our Lady of Perpetual Help.
St. Joseph's beat St. Francis, Visitation BVM and St. Charles.
The Eddystone Hornets girls team finished the season with a 12-3 record. They won their first nine games of the season and finished 11-2 in the Del Val Youth Midget B division.
The Hornets lost to Sharon Hill 41-24 recently in the title game. The Hornets beat Glenolden 30-17 in the semifinal to reach the title game. Eddystone trailed 14-10 at halftime of that game.
Angela Cubler scored seven second-half points. Stephanie Balandiak
scored seven and Gina Capriotti scored nine.
In the title game, Erin Dugan scored a career-high
14 points and Emily Greenman had six.
Team members also included Emily Costello, Brittany Carter,
Elizabeth Iannacci, Kim Yori, Traci Taylro and Rose Neary.
The team was coached by
Guy Battinieri, Matt Battinieri, Brian Steckowicz and Mike Iannacci.

********************
Look at these faces and remember them, we may see they playing on this floor in a few years.....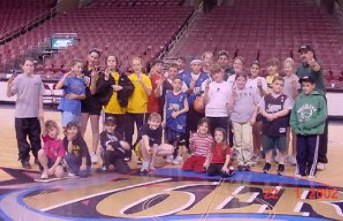 Just Ask Mrs. Iverson, she thinks so too!!!!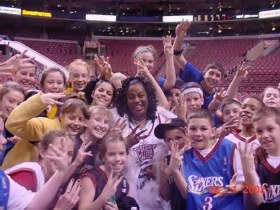 2000 - 10 Year Old Delaware Valley Comets AAU Team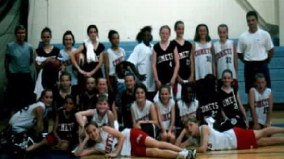 Mother Of Divine Providence Varsity Players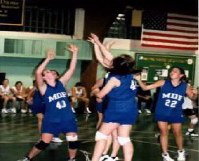 Nether Providence Traveling All Stars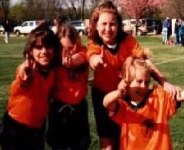 7th & 8th graders from Notre Dame and St. Francis rebounding a shot at O'Hara Summer League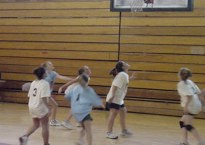 St. Annie's listening intently to instructions from Coach Bowles..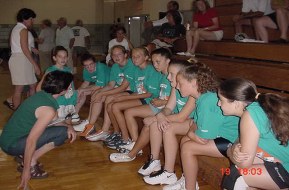 Nativity BVM (red) takes on St. Pius..........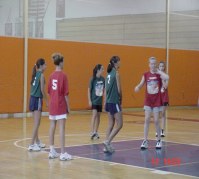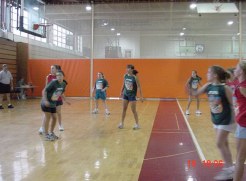 Mary Kate Concannon, providing smiles and great service is the REAL reason that O'Hara's Summer League functions properly!!!! SPRINGFIELD SUMMER LEAGUE