Delco League Championship

Delco Football 2003 Championship
Delco League Championship
National Conference
Clifton Heights Rams
CCollingdale Bulldogs
Colwyn Comets
Drexel Hill Raiders
Folcroft Falcons
Glenolden Indians
Ridley Park Parkers
Sharon Hill Ramblers
American Conference
Aston Bandits
Brandywine Warriors
Bookhaven Jets
Chester Clippers
Chichester Crusaders
Claymont Falcons
Marple Tigers
Springfield Cougars
Swarthmorewood Rams
Delco Football 2001 Championship
Juniors - 2001 Claymont Falcons 33 - Drexel Hill Raiders 14
The offensive efforts of Justin Johnson, Jamar Scott, Dwaine Brown, Josh Biddle and Josh Morris were rewarded this afternoon with the Delco League Crown.....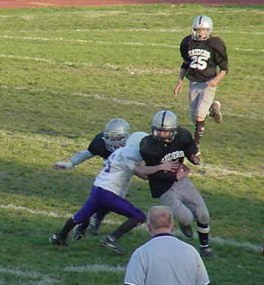 Raiders Bill Hamilton was brought to a stop by Claymont's Kashif Handy, but not until he got that first down.....

On a pitch right, Claymont's Justin Johnson makes it into the end zone again.....
Seniors Clifton Rams 39 - Marple Tigers 16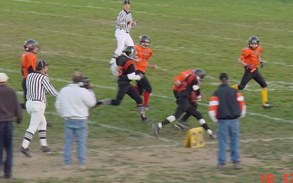 It was gonna take more than one Tiger to take this Ram Mikale Sabree down...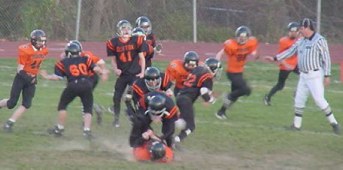 Marple Tigers hung right with the Rams in the first half..... and then, Sabree broke one again with a little help from Kevin Small, Ed Callahan, Bob Dowd, & Stephen Pasquarella.....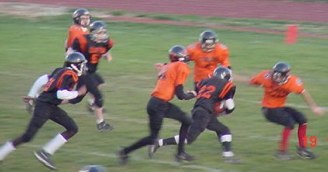 On a 49 yard pass from Tre Trombetti, Kyle Carver ran in for 6....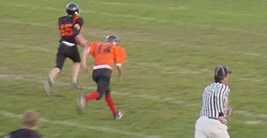 Marple Tigers gained 8 with #6 giving an outstanding offensive effort....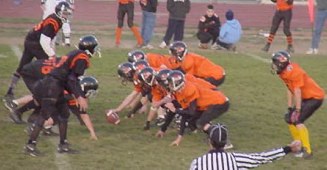 Thanks to Marple Junior Tiger Senior Girls and the Clifton Heights Rams Cheerleading Squads for an outstanding half time performance.....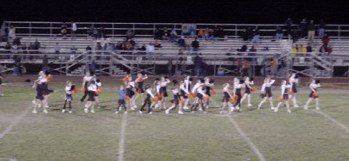 Delco is proud of the young athletes, we hope you follow their careers with us!